Simple but detailed creation and session maintenance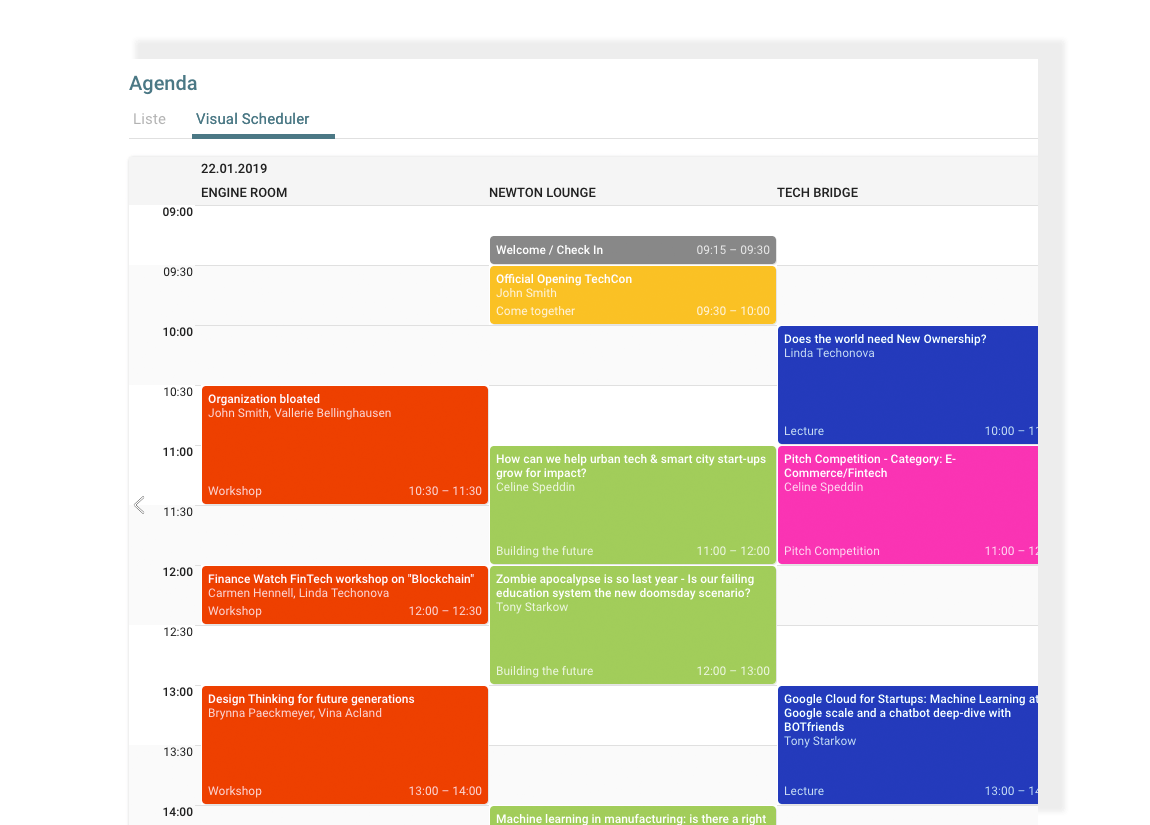 Keep your event's agenda organized, intuitive and easily accessible. Add concurrent sessions, attach documents and more. A simple but detailed creation and session maintenance (title, description, time, room, format, speakers, moderators, etc.).
You can add a Schedule to your event app easily, no matter how complex your event's format is. Include a single or multi-track schedule, link speakers, documents, and detailed descriptions for each session. If your event covers several rooms (e.g. auditorium, lounge, Audimax, pool etc.) and formats (e.g. workshops, pitches, speeches, podium sessions etc.), it is recommended to define them first in the admin area of your event under Rooms & Formats. Simply click on Add and give the room or format a name and a color. Then confirm with OK.
After then, there are two ways to create a schedule:
Import your Schedule instantly from an CSV file. Simply go to the menu item Agenda in the admin area of your event and click on Upload CSV. Select the appropriate file and confirm with Open.
Use talque-CMS Visual Scheduler building tool.
In the Agenda section you can manually create the individual program items via the list.  These changes will automatically flow into the Visual Scheduler. However, you can easily add program points via the Visual Scheduler by simply dragging a time window with the left mouse button in the area where the program point takes place - and releasing it when everything fits. A window will open where you can easily edit the title, format, room and speakers. Confirm with OK.

In the detail view you can add a summary and a background image to the program point. You can customize as well as all other settings, such as date.
Changes to the agenda can be made at any time, even during your event. Even if all participants have already downloaded the application from the App Store™ and Google Play™.
If you want to know more about this feature or the talqueCMS, just contact us.
Your event app is available for iOS Apps from the App Store and for Android Apps from Google Play. Have fun!
If you have any further questions, please have a look at our FAQs or contact our support directly in the app, web app or web version.
If you like talque feel free to join us on Twitter, Instagram, LinkedIn or Facebook and give us a high five.