Feature short list – for an interactive event
talque roulette, rating community, custom tabs, live publishing and many more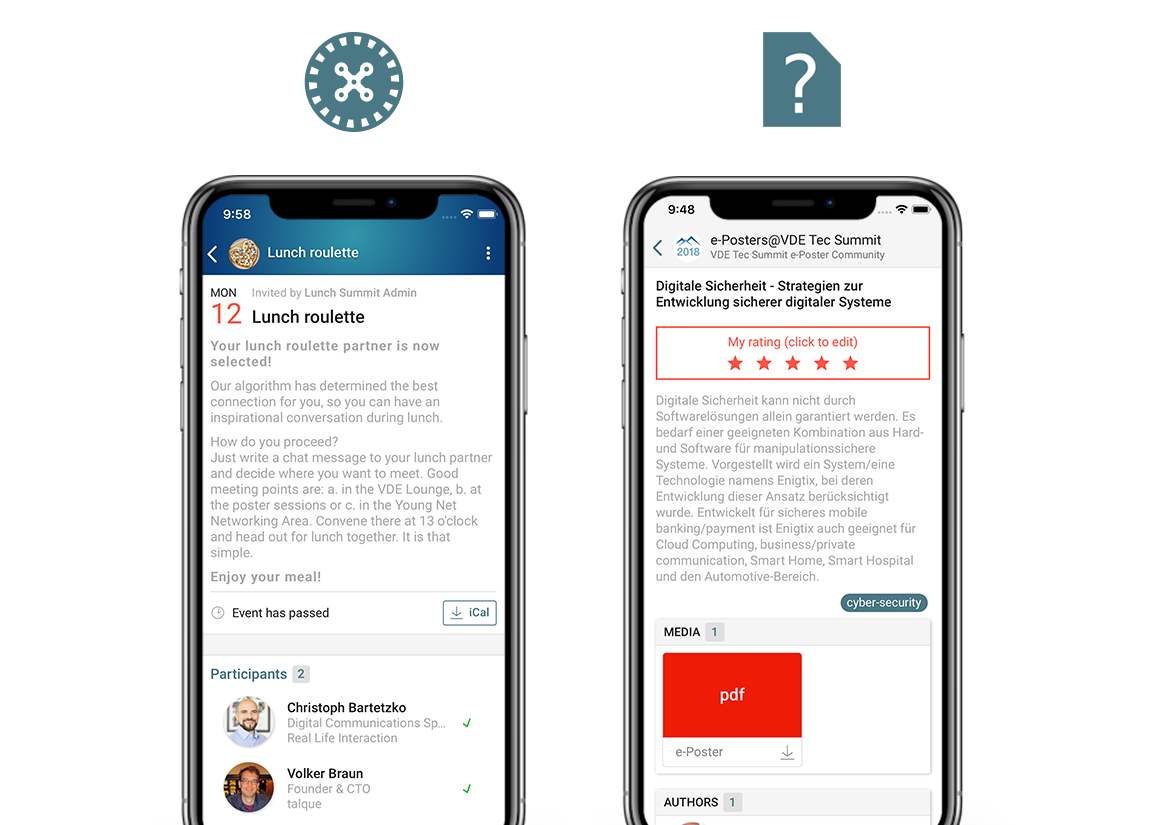 A full list of features with a short description that you get with your Event Community & Management Platform powered by talque:
talqueCMS – full event management solution
Multi-User app management
Matchmaking – per participant category; individual matching algorithm
Event branding – fully branded welcome screen with background and logos
Onboarding – with short profile tailored to your event
Infos / Live Speaker Blog – download presentations for later reference
Live Publishing – everytime up-to-date in real time
Rating Community – special network for an internal election
Photo/Video Gallery
Booking - registrations for the whole event and by sessions
Favorites & Favorites list - Add participants as favorites
Filtering & Keyword Search - Filtering and searching by participant categories, keywords, search/offer and more
Participants Profiles – elegant and expressive, information about matches
Private Messaging between participants
Contact Data Security
Live surveys – with realtime evaluation and projection (general & for sessions) (coming 2019)
Chats & Groups
One-on-One Meetings
talque Roulette - Interest based chat appointments
Chat Contacting – by direct message (event wallpaper branding possible)
Custom tabs – implement different tabs with content like news, maps etc.
Jobboards - job advertisements and job requests for employers (e.g. sponsors) and employees (participants)
Event Landing Page
Video Call – 1on1 or conference; scheduled video conferences
Audience polling with live display (general & for sessions)
Invitations – personalized or generic
WebView feature to include your website/survey/social network page
Event Maps – incl. pinch-2-zoom; multiple maps/floors
Bookmarks, build-your-own-agenda & Notes
Push Notifications, targeted messages for groups
Visual Schedules, Personalized Agenda – browse, select presentations from suggestions
Speakers – with personalized schedule
Sponsors & Exhibitors – sorted by categories; detailed profiles; branded landing page spot
Personalized content for private groups
Document Hosting (PDF, Excel, PPT, Word)
Website plugins to include your event information
If you want to know more about the features, the event app / web app, talqueCMS or website plugins, just contact us.
Your event app is available for iOS Apps from the App Store and for Android Apps from Google Play. Have fun!
If you have any further questions, please have a look at our FAQs or contact our support directly in the App.
If you like talque feel free to join us on Twitter, Instagram, LinkedIn or Facebook and give the app a high five.