Feature short list – App, CMS, Website, API, Analytics
speed dating, speaker votings, custom tabs, live publishing and much more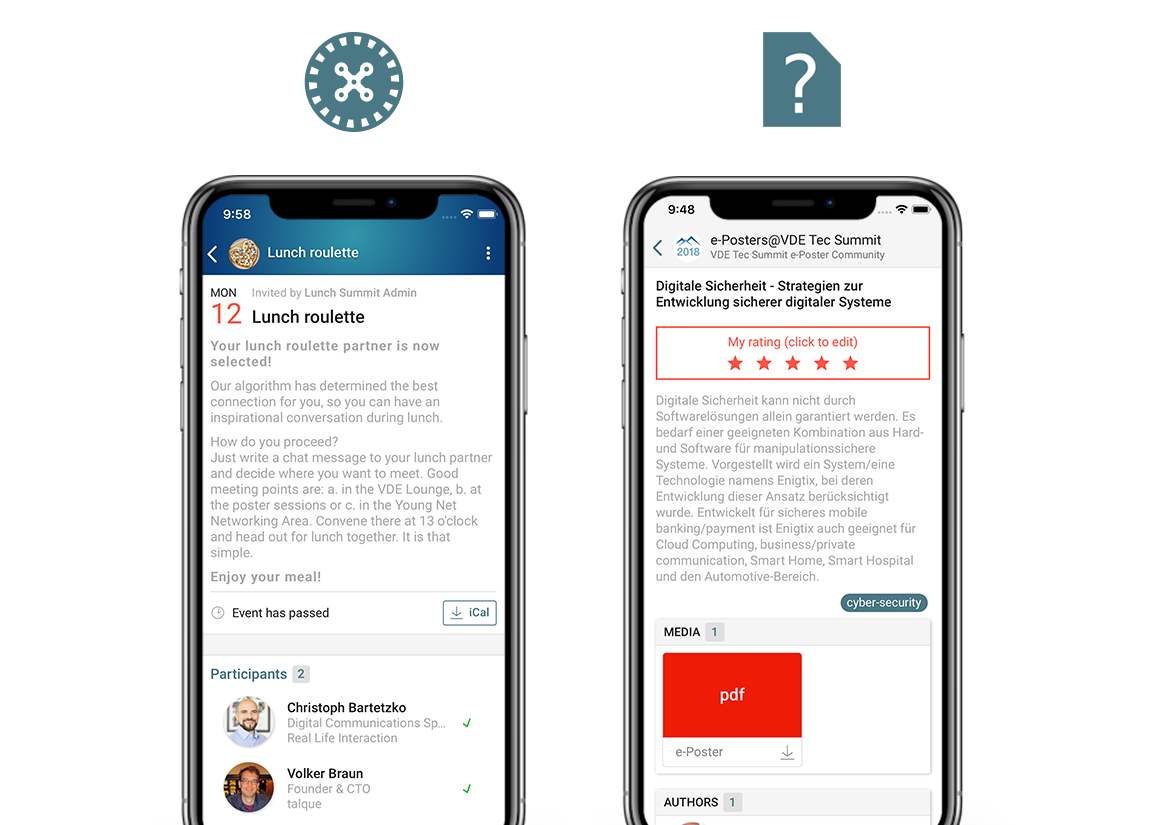 A full list of features with a short description that you get with your Event Community & Management Platform powered by talque:
App/WebApp additional functionality (CMS included)
Matchmaking – per participant category; individual matching algorithm. Matchmaking between the participants - before, during and after the event. Fixed std onboarding – fixed tags, categories and questions. Std onboarding (extendable tags+up to 3 extra Questions) Completely individualized onboarding for participants (participant groups / profiles / questions) => first suggestion by talque, fine tuning in coordination with organizer); goal: participants can create their profile in less than 5 minutes
Participants Profiles – elegant and expressive, information about matches including detailed participant profiles
Sponsors & Exhibitors – sorted by categories; detailed profiles; branded landing page spot. Perfect presentation opportunity for partners, start-ups, investors, exhibitors, sponsors and many more.
Conference Agenda – with bookmarks and session booking, build-your-own-agenda & notes
1:1 Meetings for participants – There will be a 1:1 meeting possibility directly from app/webapp, located on the profile page of each specific participant. There are distinguished numbered tables or booths as meeting spots available on the conference that talque will assign using this process. Further process description: participant A can ask participant B to have a meeting. He directly jumps into a time proposal page that is based on availabilities of both participants during conference (so based on info on which days both participants are present - from onboarding, already scheduled meetings and personal calendar entries (if person decides to allow app access). It is possible to suggest several times, of which the second person can pick one that is then determined. Once the second person has agreed to meet, the systems automatically assigns a meeting spot, depending on availabilities of meeting spots according to priority logic.
VIP Networking tables – Companies, partners, exhibitors, investors are given the opportunity to be assigned an exclusive meeting spot for which participants can apply. An individual question can be put to the applicants and more information can be requested via chat. The host of this exclusive meeting spot can then freely decide which meeting requests to accept.
Speaker ratings (public/secret) – Speakers/Presenters can be evaluated by all participants of a session. This can be activated as a public or a secret vote.
talque Roulette / Speeddating – Interest based chat appointments. Suitable for the implementation of different get-together models (speed dating, lunch roulette,...). Organizer defines matching criteria and how many people should meet each other (for instance 10 sessions with 5 minutes each). Participants can decide themselves during onboarding if they want to join the speeddating session. The system globally optimized the partners such that everybody gets 10 partners that might be of maximum value for him based on their profiles.
Job Boards/Ads – Targeted job advertisements (sponsors, exhibitors, organizers) and job applications (event participants), easily monetized. An individual branding can be added to each job advertisement and contact persons (who are on site during the event) can be displayed. Direct contact via chat or meeting possible (optional).
Rating Community – Freely definable network or implemented menu item for the evaluation of concepts, models, strategy papers and much more.
Call-for-papers – an integrated process for calling for articles, concepts and other contributions.
Bookings on website – booking process integrated via talque on the organizer's event website Free standard features
Filtering & Search – filtering and searching by categories and interest for participants, sponsors, exhibitors, sessions
Favourites list – simply create your favourites including a clear overview
Infos / Live Speaker Blog – download presentations and other media for later reference
Event branding – Integration of custom branding for talque app including splash screen, network logo, background, email banner and logo
Multi-language support – Multi-language support on all devices in English, German and French. Content can even be created in any language.
Custom tabs – implement different tabs with content like news, info, article, maps etc.
Live Publishing – everytime up-to-date in real time on all instances, plugins and devices
Private Messaging chats between participants and upload/download of videos, images, documents.
Contact Data Security – Access to personal data only after confirmation of the user that has been contacted
Chats & Groups – Closed groups of interconnected persons including date surveys.
Chat Contacting – by direct message (event wallpaper branding possible)
Video Call – 1on1 or conference; scheduled video conferences
Invitations – personalized or generic
Event Maps – incl. pinch-2-zoom; multiple maps/floors
Push Notifications – via app / email with any news post possible through organizer
Personalized content for private groups
Document Hosting (PDF, Excel, PPT, Word)
Media Data Upload – Images, audio, video
Multi-User app management – Create multiple admins for ideal planning and management
Website features (CMS included)
Wordpress integration – Simply plug in the data in real time to the event website (speaker, agenda, sponsors/exhibitors). Customizable design via presets and CSS.
Javascript integration incl. Search/Filtering (speaker, agenda, sponsors/exhibitors)  – Similar to Wordpress integration, but can be used in any other professional CMS (Typo 3, Neos, First Spirit, …). Additionally allows custom search filter configurations
Event landing page – Your own landing page for your event. Freely configurable - Integration of plugins or talque booking page/overlay possible.
Event calendar – With its own event management. Events are presented in a modern calendar overview on your website and each event has its own SEO-optimized detail page (including pictures, videos (Youtube, Vimeo), buy button and more). Can be individualized to fit your specific needs.
API integration
Website data – Simply plug in the data in real time to the event website (speaker, agenda, sponsors/exhibitors). Customizable design via presets and CSS.
JSON API – Incoming/outgoing data API in order to connect external systems (Ticketing, Apps, Data View Systems,...)
OAuth2 login – Integrate talque login into your existing websystem such that user can login into your system using their talque account.
Service
Std. support
24h support
1h support during event
Onsite support
Local WLAN
Data Maintenance Agenda
Data maintenance Speakers
Data maintenance all inclusive
Help with Import/Export
Full Self Service
Analytics
Standard Analytics – Main data of the event about participants, meetings, chats inclusive downloadable data lists for speakers, meetings, sessions and subsessions.
Standard Analytics + Onboarding Statistics (data tables of all participants including interests and sorted by categories)
Premium Analytics - including graphical processing of all data and onboarding statistics. Detailed statistics per participant.
If you want to know more about the features, the event app / web app, talqueCMS or website plugins, just contact us.
Your event app is available for iOS Apps from the App Store and for Android Apps from Google Play. Have fun!
If you have any further questions, please have a look at our FAQs or contact our support directly in the App.
If you like talque feel free to join us on Twitter, Instagram, LinkedIn or Facebook and give the app a high five.