Sponsors, Partners & Exhibitors
Sorted by categories, with own profile and contact persons via chat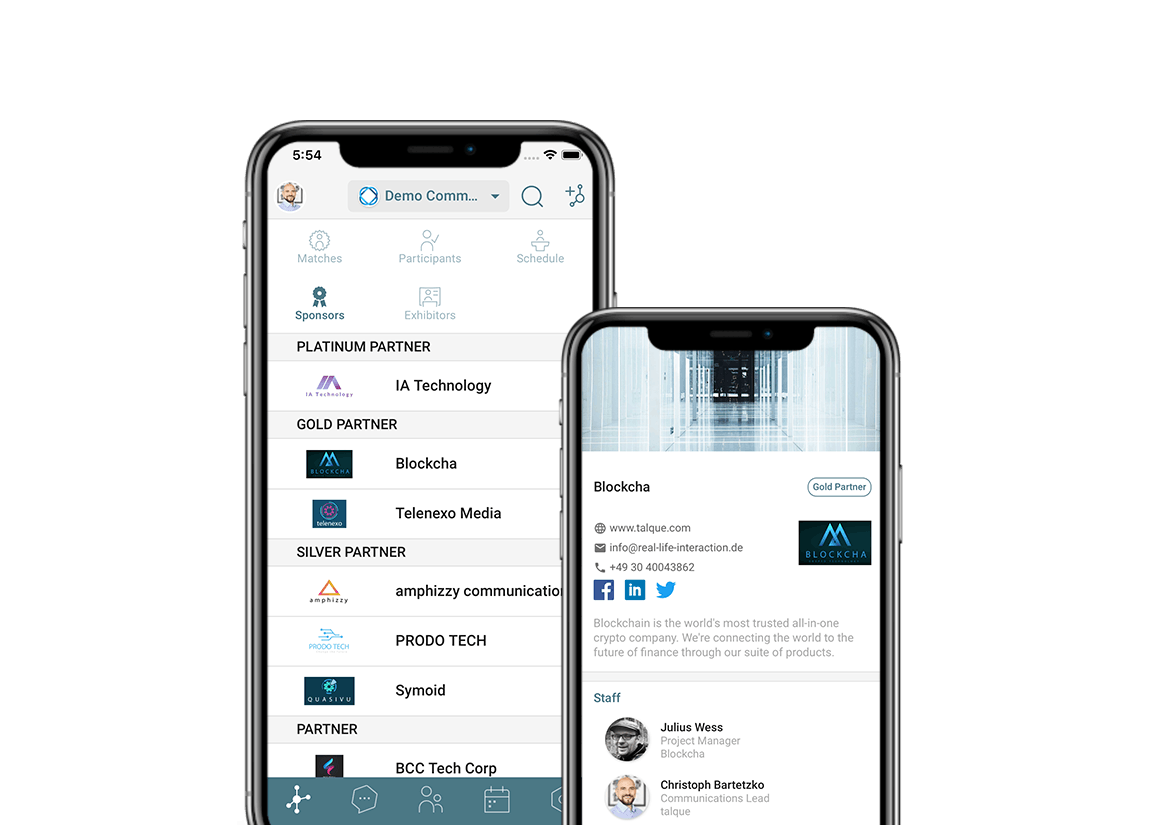 Receive overview pages and detailed profiles for all sponsors, partners and exhibitors, which can be filtered by criteria such as name, partner type (gold, silver, platinum, etc.). In addition to the app/web app, they can also be presented on the landing page of your event, if desired. Offer your partners and exhibitors the presence and reach they deserve. Long before and after the event.
Create a detailed profile of your sponsors, partners or exhibitors with:
Basic information such as name, sponsor category, exhibitor category, stand number and description.
appropriate branding with logo and background image.
Contact details such as email, phone and website as well as social media channels for Facebook, Twitter and LinkedIn.
Employees within the profile, who can be contacted via chat as contact persons on site but also before and after the event, if they wish - e.g. for product presentations or meetings.
If a partner of your event wishes to edit his profile via his marketing department or via an agency himself, you can simply comply with this request by sending an invitation and a processing link, without the partner or exhibitor having to register in advance. To do this, proceed as follows:
Click in the partner list on the created profile of your desired partner to edit it.
Scroll the editing window all the way down.
In the last editing item Permissions, enter the e-mail addresses of the people you want to give permission to edit.
If all necessary e-mails have been entered, click on Send partner e-mail. Now the desired persons receive a processing link, which they only have to follow, and they can already edit the profile. Voila!
If you want to know more about this feature or the event app / web app, just contact us.
Your event app is available for iOS Apps from the App Store and for Android Apps from Google Play. Have fun!
If you have any further questions, please have a look at our FAQs or contact our support directly in the App.
If you like talque feel free to join us on Twitter, Instagram, LinkedIn or Facebook and give the app a high five.